Introduction
On the WoodCentral forums, David Weaver presented a method of sharpening chisels using a buffing wheel, which results in a sharper, much longer-lasting edge than normal sharpening methods, and is also faster, easier, and cheaper. Because it has so many advantages, it has been nicknamed the "Unicorn profile."
This video shows how to use a buffing wheel to sharpen chisels, and demonstrates some chopping tests similar to the ones below.
If you want to see the equipment used and alternatives, see the Equipment section.
David Weaver's article about the Unicorn method is here.
Chisel durability tests
The rest of this page contains tests of this method of sharpening. The test is simple and repeatable. This lets me come back later to run more tests, and be confident that the results are comparable. It also allows others to easily conduct similar tests so that they can confirm the results (or not!).
The procedure is simple: repeatedly chop through a piece of soft maple and see how much damage there is to the edge. The test piece was 3/4" thick and 1/2" wide, and the test involves chopping off 1/16" slices, for a total of twenty times. This is what it looks like: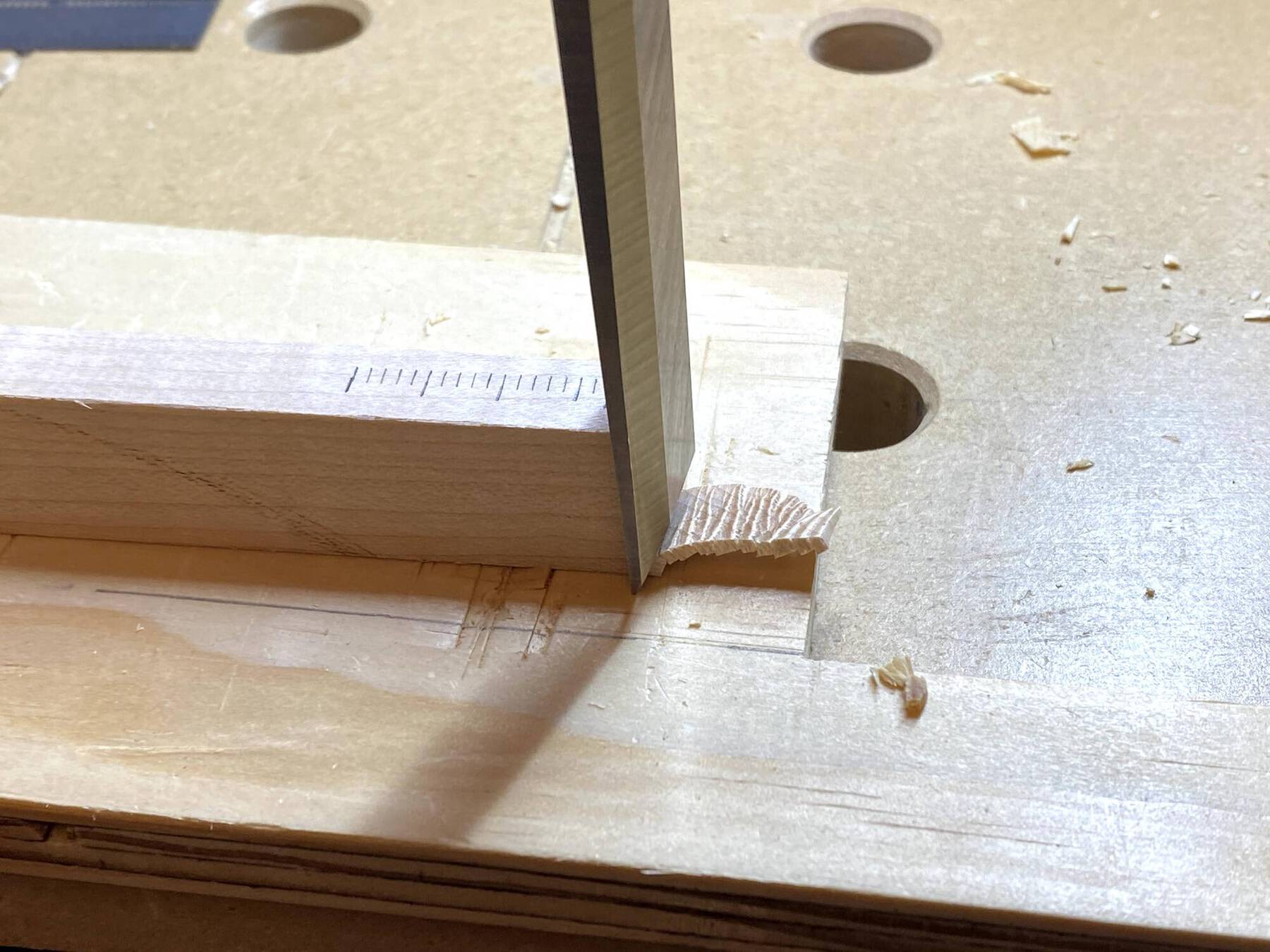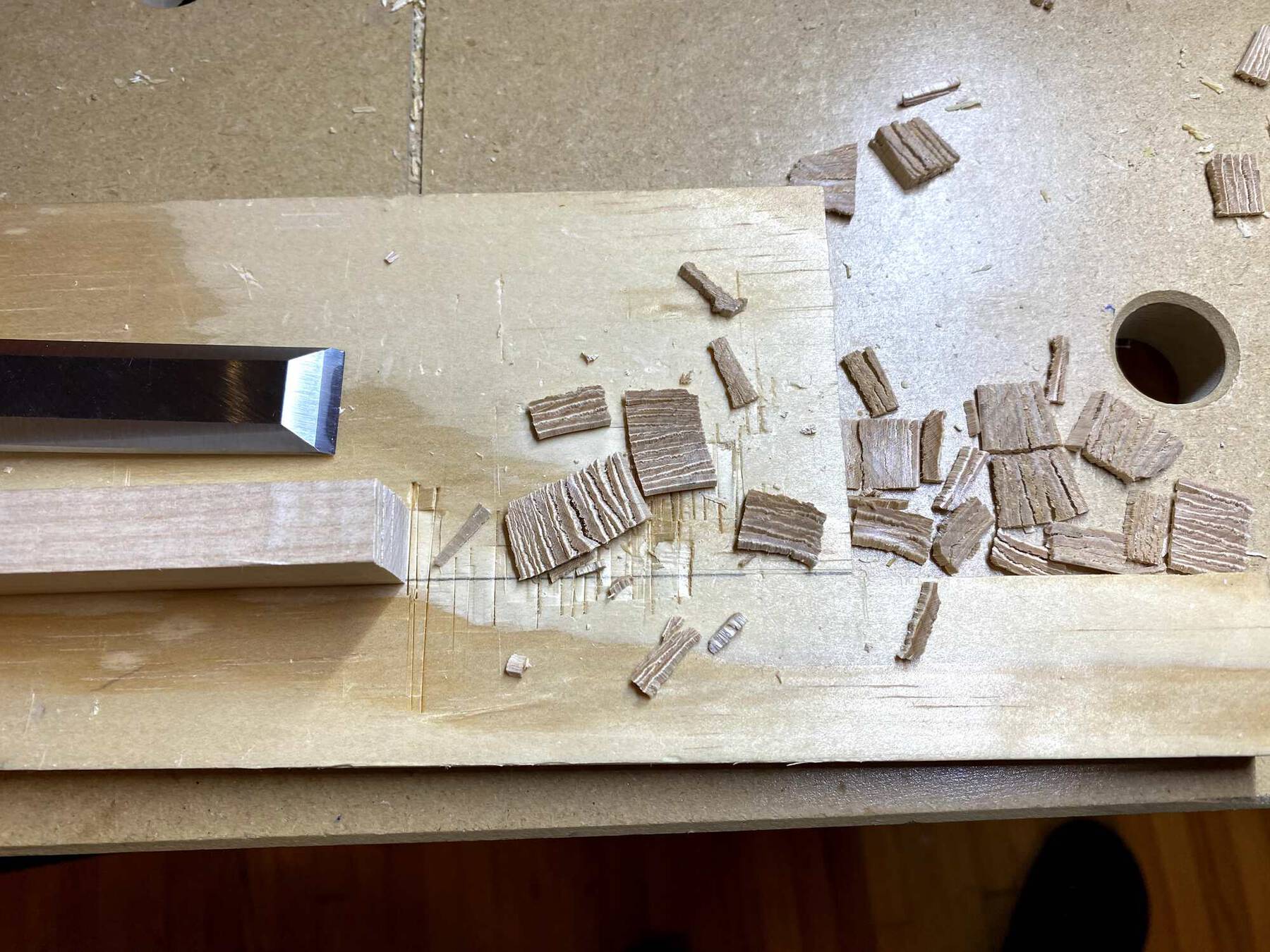 So far I've used two chisels for testing:
A 3/4" Buck Brothers chisel from Home Depot. At $21 for a set of three, this is a cheap chisel. I've found that the steel is relatively soft.
A 3/4" Veritas chisel from Lee Valley. This chisel costs $100 and is widely regarded as one of the best chisels you can buy.
I sharpened these chisels a few different ways:
Sharpened with a flat 30-degree bevel using a honing guide, and finished on a Shapton Pro 12000. (Technically, this would be considered a secondary bevel, since the Buck Bros chisel had a lower-angle factory grind, and the Veritas was hollow-ground.)
Sharpened to 30 degrees on a Shapton Pro 1000, then buffed. Only the bevel was worked on the stone. The back of the blade didn't touch the stone; buffing the bevel side removes the burr.
Sharpened to 30 degrees on a Shapton Pro 1000, then stropped at about 40-45 degrees on a leather strop charged with 1 micron green compound. (The compound is made by JacksonLea, and was ordered from McMaster-Carr.)
Each test below also has a link to a Full Progression page, which contains photos of the chisel after 0, 1, 2, 3, 5, 10, 15, and 20 pieces chopped, so you can see how the damage progresses as the chisel was used.
---
Equipment
A wide variety of equipment can be used to create the microconvex "unicorn" bevel.
This what I used in these tests:
The buffing wheel from this kit is probably a bit softer than is ideal, but it still works well.
I have also used the following, which seems work slightly better:
For stropping, I used:
David Weaver uses:
Bill Tindall has used the same equipment as David Weaver, and he has also had success with rocking the blade on a fine sharpening stone for a few pulling strokes followed by a few rocking strokes on a strop.